Peach Sapphire Engagement Rings and Padparadscha Sapphire Engagement Rings
Peach sapphire engagement rings have become very popular over the past few years.  And no wonder!  The warm tone of a peach sapphire is beautiful and feminine, and something worn easily every day.
To view our sapphire engagement rings, just click here.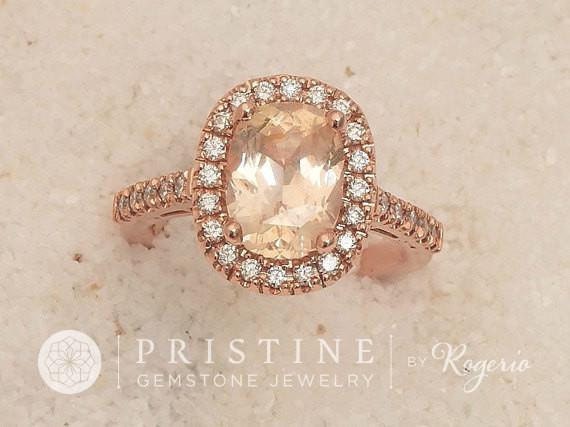 Visit our Engagement Ring Collection for ready to ship peach sapphire engagement rings.  We also have a selection of loose peach sapphires precision cut by Rogerio ready for your design ideas!  Just visit our Sapphire Collection.
To learn more about this trend, keep reading!
"Peach" is not an official gemological color term for sapphires.  Peach is actually a combination of pink and orange, and even sometimes a bit of yellow.  However, for ease of understanding, the term peach or peach champagne has become a popularly used term to describe such a sapphire.
Often what people are looking for in a peach sapphire engagement ring is the morganite color (light pink/peach, or light pink).  Morganites are a beautiful and inexpensive stone. However, morganites fall short when compared to the qualities of an orange/pink or peach sapphire.
Most morganites have been irradiated to get their color, as they are in fact often an almost white beryl.  Irradiation is not a stable treatment in morganites and can fade over time due to exposure to natural daylight.  Therefore, a morganite could return to its natural color after regular wear for only a few months.  Another important fact to note is that morganites are 7.5-8 in hardness on the Mohs scale as opposed to sapphires which are 9 in hardness.  This difference may not seem that dramatic, but keep in mind that the Mohs scale is not a linear scale but a relative scale, which means that sapphires are substantially harder than morganite.  Please visit our blog Morganite Engagement Rings and Alternatives for more information.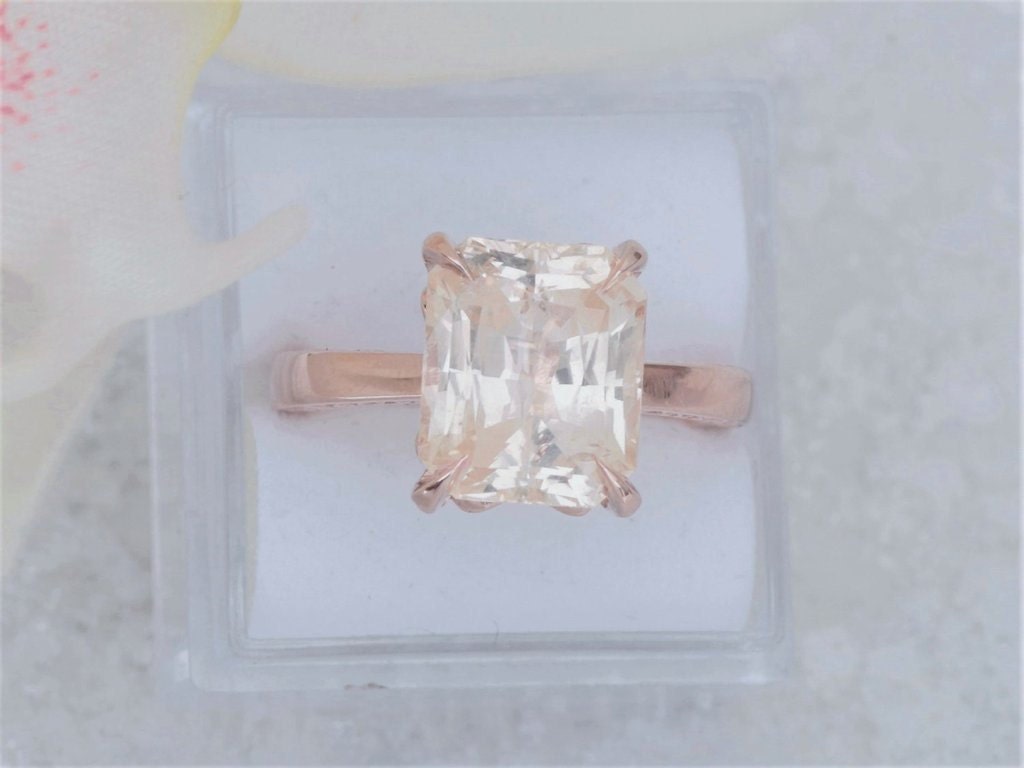 Radiant cut peach sapphire rose gold solitaire ring
Something else to know for the gentlemen out there trying to find peach sapphire engagement rings, the color can range considerably based on the ratio of pink to orange and yellow, as well as the level of saturation (intensity of color) of the sapphire.  Something to keep in mind is that with more lightly saturated stones, they will be impacted by surrounding color (ie the gold into which they are mounted) more so than a more saturated stone.   A lightly colored pink or peach sapphire mounted into rose gold will pick up some of the rose gold color making the stone look more "peachy".   Many of the light peach sapphires that you see mounted into rose gold are often a very faint peach color leaning towards colorless.
When considering a peach sapphire engagement ring, you may also come across the term "Padparadscha".  Padparadscha sapphires are a specialized category of peach sapphires
It is said the padparadscha color is a marriage made in heaven between a lotus flower and a sunset.
What makes a sapphire Padparadscha?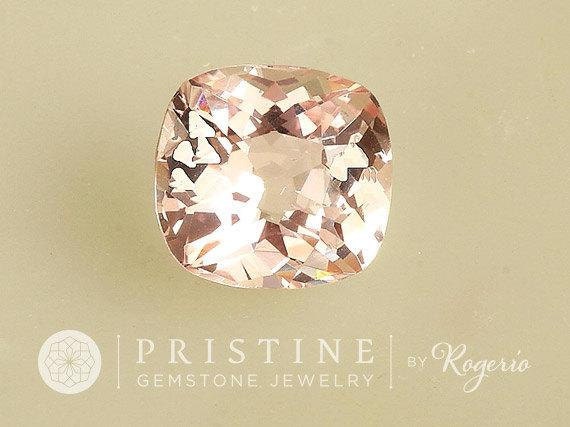 Certified Non Heat Treated Padparadscha Sapphire
There is actually considerable controversy around the name "Padparadscha". For an article prepared by the Gemological Institute of America on the Padparadscha name, please visit this link:  Padparadscha:  What's in a Name?
Some believe the term should be restricted only to non-treated (including not heat treated) Ceylon sapphires presenting a delicate pink orange color.
There is another school of thought, which accepts heat treatment for Padparadscha sapphires, and also disregards the origin.
Color categorization can be very subjective at times especially when it comes to the Padparadscha color due to the many subtle variations of orange and pink tones.
Because Padparadscha sapphires are very rare and incredibly beautiful, they are one of the most expensive and coveted sapphire types.  As a result of their increasing popularity and high price tag, the trade mark name "Padparadscha sapphire" has been overused in the industry.
In our business, we take a more conservative approach towards the term Padparadscha.  Unless a sapphire has been certified as Padparadscha (by the main GIA or GRS labs; the most reputable in the world), and despite color and origin, we will label them as "padparadscha color" without saying it is officially "padparadscha".  Hence, we don't charge the price per carat that padparadscha commands.  NOTE:  85% of our sapphires are from Ceylon (Sri Lanka), the origin of Padparadscha.
Finally, you can also find us on Etsy as PristineGemstones (loose gemstone shop) and PristineJewelry (finished jewelry shop)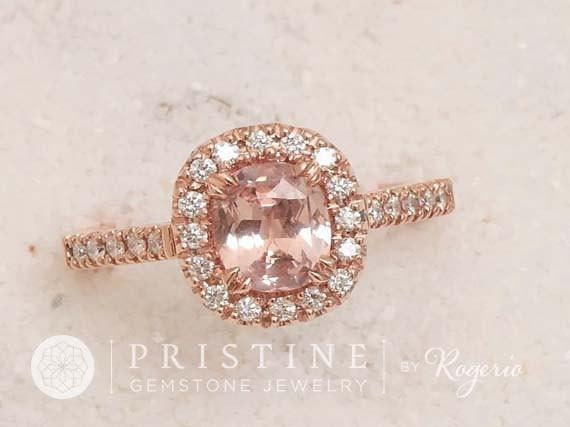 Cushion Pink Peach Sapphire Diamond Halo Rose Gold Engagement
Blog prepared by: Rogerio Graca, professional gem cutter/lapidary and supplier of gemstones for 24 years.  
Read All About Us!